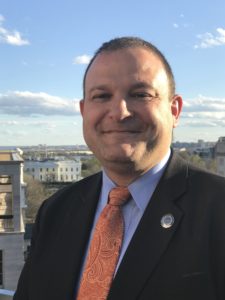 Mr. Garrison has vast experience in federal, state, county and municipal government, labor relations, public finance, workforce development, political campaigns and campaign finance. He specializes in government relations and issue and grassroots advocacy. Garrison most recently served as Director of the Bergen County Department of Planning and Economic Development and the Executive Director of the Bergen County Improvement Authority. His work centered on transportation policy, conduit bond financing, community development and redevelopment of downtowns.
Mr. Garrison has served on various boards including the Casino Reinvestment Development Authority (CRDA), the Governors Ethics Task Force, the North Jersey Transportation Planning Authority, the Hudson County Board of Elections and the Union County Planning Board.
Robert received his Juris Doctorate from Rutgers Law School, a Masters degree in Governmental Administration from the University of Pennsylvania's Fels Center of Government, an Undergraduate Associate certificate from Eagleton Institute of Politics and a Bachelor of Arts degree from Rutgers University.
Garrison resides in Westfield, New Jersey with his wife Erika and his daughter Maya.